Drummy tiles is something that we here at TRIM take pride in. If your tiles sound hollow or drummy when tapped with a spoon, talk to our team of drummy tile repair specialists. Replacing tiles on your walls or floors can be difficult and costly – particularly if the type or colour of tile is no longer available and you have to retile an entire section of your home or office. As such, it could be tempting to ignore drummy tiles. However, the drummy hollow sound these tiles make is a signal that they have come unstuck from the substrate and, in time, they are likely to develop unsightly cracks and chips. 
Fortunately, the presence of drummy tiles does not have to lead to expensive replacements. TRIM (named for our unique drummy tile reglue injection method) offers an affordable alternative to replacing drummy tiles. Our tile reglue injection method offers a no dust, no mess, no fuss proven and affordable solution to fix drummy tiles. Tested to Australian conditions, our dummy tile repairs are done in a few hours and guaranteed to provide 25 years of service life. Plus we offer a 7-year workmanship guarantee and 10-year Injectabond manufacturers guarantee.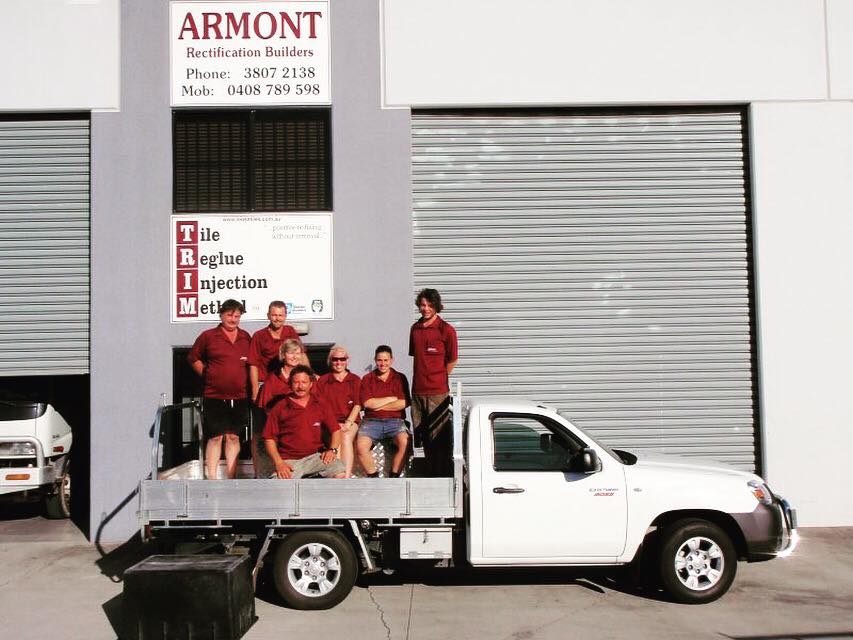 Drummy Tiles Experts
Get your loose or drummy tiles repaired without having to replace them. Loose or drummy tiles can be damaged by regular use leading to cracks, chips, and broken grout.
For more than 30 years, the TRIM team has perfected our tile reglue injection method. This proven solution can be used to repair drummy or loose tiles almost everywhere, from pools, patios, walls, and floors.
Plus, TRIM Injectabond is the only injection adhesive for repairing drummy tiles that is compliant under the State Legislations of Australia.
How We Repair Drummy Tiles
If you've noticed drummy tiles anywhere on your property, give the friendly tile repair specialists at TRIM a call. Unlike other tile companies, we won't put you through the hassle and expense of purchasing and replacing your tiles, which could lead to mismatching tiles or require replacement of large sections of tiles. Instead, we'll repair your drummy tiles using our proven tile reglue injection method. It works so well, we even named our company after it.
With more than 30 years of experience repairing tiles across Australia, our team know how to read the condition of your drummy tiles just by the sound they're making. We'll conduct a thorough site inspection and advise you on the best course of action for fixing your drummy tiles.
Our drummy tile repair process starts with the pressure injection of our unique injection tile adhesive, Injectabond which reglues drummy tiles, creating a positive bond between the substrate and the tiles. Our process makes it possible to inject this adhesive through the adjoining grout between drummy tiles without covering your business or house in dust.
Rebonding drummy tiles using Injectabond also ensures that your tiles have the flexibility to accommodate building movement. The adhesive has 300% elasticity, which makes it very stretchy, eliminating any future problems.
Plus, it is quick-setting which means the whole process takes just a couple of hours. So, you could have your drummy tiles fixed with minimal disruption to your business and/or household.
Drummy Tiles: People Also Ask:
What is a drummy tile?
Drummy tiles are loose or debonded tiles. These could be wall, floor, patio or pool tiles. Drummy tiles are characterised by the hollow sound which can be heard when walked on or tapped with an object. This sound that drummy tiles make is an indication that the tile adhesive has failed, allowing the tile to become loose.
Are drummy tiles a defect?
Drummy tiles may be indicative of poor workmanship by the tiler or builder. Ideally, tiles should be laid with 100% coverage (the amount of surface area covered by tile adhesive).
Drummy tiles arise when less than the required amount of the tile adhesive is used. This means that the adhesive has to work a lot harder to maintain a bond between the tile and the substrate. Drummy tiles can also be caused by using the incorrect ratio of adhesive powder to water, inadequate mixing of the tile adhesive, incorrect preparation of the substrate, and by allowing the adhesive to dry out too much before laying tiles on it.
Structural issues with the house or building are another cause of drummy, loose or tented tiles. Daily expansion and contraction caused by heating and cooling of the tiles put stress on the adhesive, causing sections which have been poorly applied to fail. If the tile is still bonded in parts, while being loose in others, it will make the characteristic sound of a drummy tile.
Why do tiles go drummy?
Drummy tiles are a sign that the tile adhesive beneath the tile has failed. This could be due to age or because insufficient tile adhesive was used when the tile was laid. Structural movement in the floor or wall and/or an accumulation of moisture under the tiles can also lead to drummy tiles.
What happens if you don't fix drummy tiles?
Drummy tiles may look perfectly fine, despite being de-bonded. But, if drummy tiles are left untreated, visible signs such as cracked grout, cracked tiles and even tiles that lift, peak or tent along one edge can develop. These signs are more frequently the reason for people to call tile repair companies, however repairs can be done more affordably and with less hassle if carried out at the drummy tile stage.
Drummy Tiles Repair. How We Can Help You Today?
If you have noticed drummy tiles anywhere around your home or office, or if you're at all concerned about the condition of your tiles, reach out to our friendly team today for a.permanent and guaranteed repair solution.
With 30 plus years of experience regluing drummy tiles around Australia, you can rely on our hassle-free, simple repair method to positively refix your drummy tiles without removal and in no time at all.

A fraction of the cost of expensive tile replacement!

Bathrooms are ready for use the very next day. Avoid the long process of tile replacement!

Don't worry about us having to remove fittings – there's no need to cause further damage with TRIM!
Got Tiles that Need Attention? Contact us now!
Don't let those loose, defective, and noisy tiles ruin your day – TRIM is here to help!
Why remove and replace? – Inject and save!