About Us
The Tile Reglue Injection Method (TRIM) is a process of tile repair that ensures complete rectification of your debonded floor and wall tiles. Having developed and continuously refined TRIM over the last 30 years, we take pride in our innovative approach to tile repair and our proven track record in providing a timely and cost-effective service for domestic and commercial customers. Our 3 decades of experience have enabled us to become industry leaders in providing innovative tile rectification solutions, and we continue to pride ourselves on the high-quality of our service.
TRIM utilises 'Injectabond' which is a specialised range of injection adhesives designed to be injected beneath affected tiles through access points in adjoining grout joints. Repairs are localised, avoiding damage to surrounding tiles. This method of refixing loose tiles guarantees a flexible, permanent finish that is far less expensive and time-consuming than tile replacement. By injecting adhesive through injection points in the grouting next to drummy tiles, making the repairs localised and avoiding any damage to surrounding tiles.
Injectabond is a recognised specialised adhesive and is a compliant building material under state legislations – a guarantee of the quality and proven effectiveness of TRIM. These achievements allow us to offer 10-year manufacturers product warranty, enabling us to offer you peace of mind that our competitors cannot.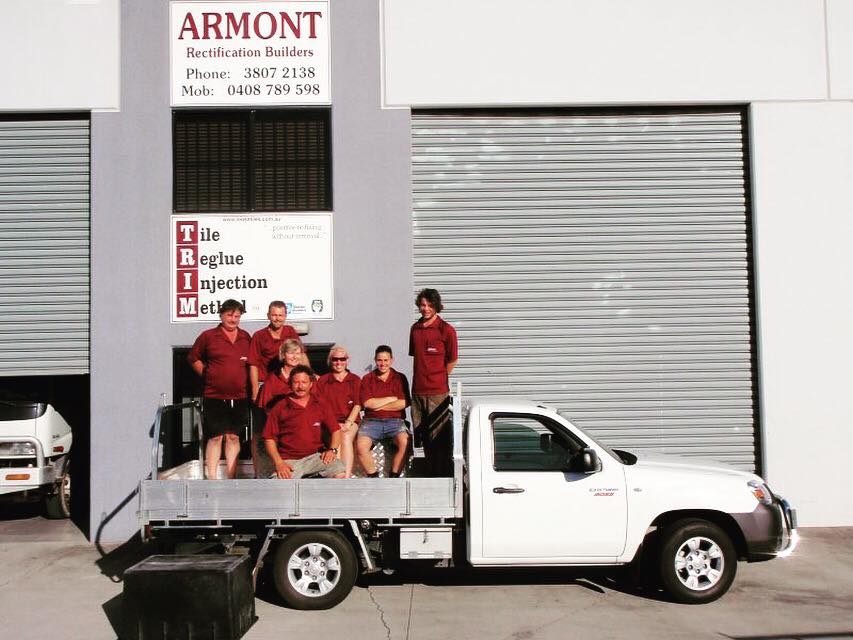 Our History
TRIM is the brainchild of Case Bunnig, a rectification builder in Queensland who saw the need for a better method of repairing loose and defective tiles. In the late 1980s, Case took note of the large number of replacement jobs involving tiles that had come loose but were otherwise, in all other senses, completely fine. At the time, the only accepted method of repair was to completely remove and replace affected tiles – a process that was exceptionally expensive, noisy, time-consuming, and messy!
Seeking a better solution, Case developed the idea of an injectable adhesive that would allow tiles to be rebonded rather than replaced. Following the creation and use of a number of injection apparatus, TRIM eventually acquired its 'magic potion' through the development of Injectabond – a liquid adhesive containing a special shrinkage agent, enabling it to pull tiles back into place. Injectabond would prove to be exceedingly effective (possessing a 25 year tested service life and fast-acting, allowing rebonded areas to take foot traffic within only a few hours of treatment.
Today, TRIM continues under the stewardship of Andrew and Patty Golle, the Daughter and Son in Law of TRIM's creator Case Bunnig. Following the commencement of its first franchise operation in Townsville in 2005, TRIM's services have spread across Queensland, New South Wales, and Tasmania – with trips to Melbourne, Adelaide, and Perth carried out regularly. (Darwin and New Zealand on special occasions) Possessing a legacy of high-quality tile repair service and a track record of success stretching back 30 years, TRIM is still going strong.
Got Tiles that Need Attention? Contact us now!
Don't let those loose, defective, and noisy tiles ruin your day – TRIM is here to help!
Why remove and replace? – Inject and save!