Drummy Tiles & Hollow Tiles
Drummy Tiles or Hollow Tiles can be the sign that you have Loose Tiles. Tapping Drummy Tiles with a spoon will give a Hollow Tile sound indicating that the adhesive bond has failed and the tiles are no longer glued to the substrate. Drummy Tiles can be damaged under normal use and grout can crack and fall out as a result. Drummy Tiles should be inspected by our T.R.I.M team to determine if they are Loose Tiles and assessed for Tile Injection Repairs. T.R.I.M can positively refix Loose Tiles without removal.
Our method is quick, inexpensive, and unobtrusive – there's no mess to clean up afterwards, and no need to worry about mismatching tiles.
If you are hearing any drummy or hollow sounding around the edge tiles or grout joints, there's no other tile repair company to rely on but T.R.I.M.
Our method is quick, inexpensive, and unobtrusive – there's no mess to clean up afterwards, and no need to worry about mismatching tiles.
30 Years Of Loose Tiles Fixing
T.R.I.M is a known and proven solution when it comes to repairing loose tiles on almost everywhere, from pools, patios, walls, and floors for over 30 years. We are the best tiler that you can have in Australia, wherein we possess expertise, know-how, and experience to ensure outstanding repair solutions for your tires. We at T.R.I.M will help solve any of your tile problems, cost-effectively, quickly, and to a high-quality.
If you check and search Google for fixing drummy tiles or hallow tiles in Australia, T.R.I.M is on the top result, and one of the reasons is because of how meticulously we do our inspections in the area and the products and tools that we use in preparation of fixing your tiles.
All our handyman can handle all your home wall tiles, no matter what sound they are making, from drummy tiles to hallow ones, our personnel will surely know the difference.
How Does T.R.I.M Work
Instead of us replacing your tiles, after inspection of the site, we use pressure injection on injectabond to regale the tiles, which will later on create a positive bond from the substrate to tile. T.R.I.M provides a great solution by injecting adhesive through the tiles' adjoining grout without covering your business or house in dust. This will also take a couple of hours, thus minimising the disruption to your business and home.
What's good about injectabond job is that it's not a temporary type of solution to your tile problems. In fact, it has a 10 year manufacturer warranty and has a service life of up to 25 years against Australian Standards. De bonding using injectabond is also known to maintain and design the flexibility of your tiles to accommodate building movement. They are known to have over 300% of elasticity, which makes them very stretchy, thus eliminating any future problem.
T.R.I.M injectabonod is the one and only compliant injection adhesive under the State Legislations of Australia.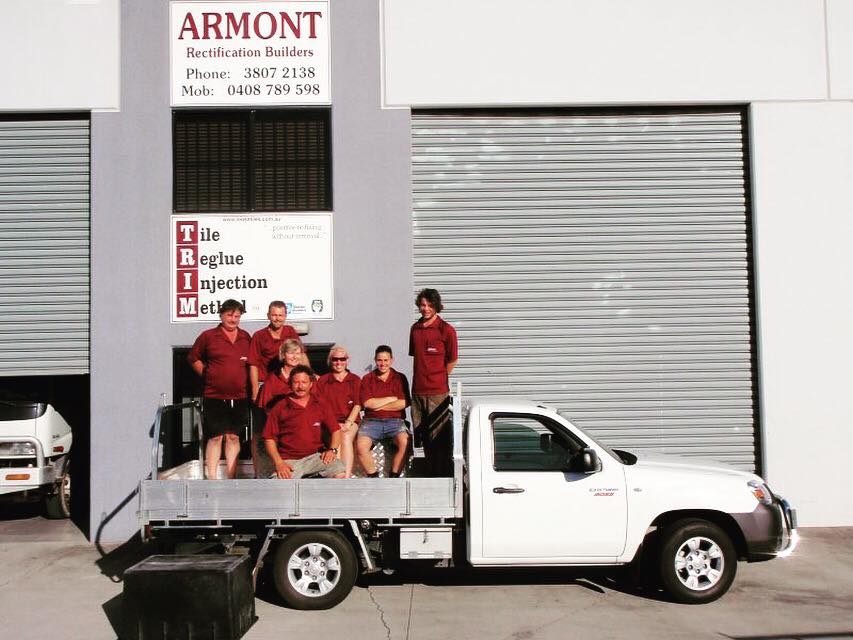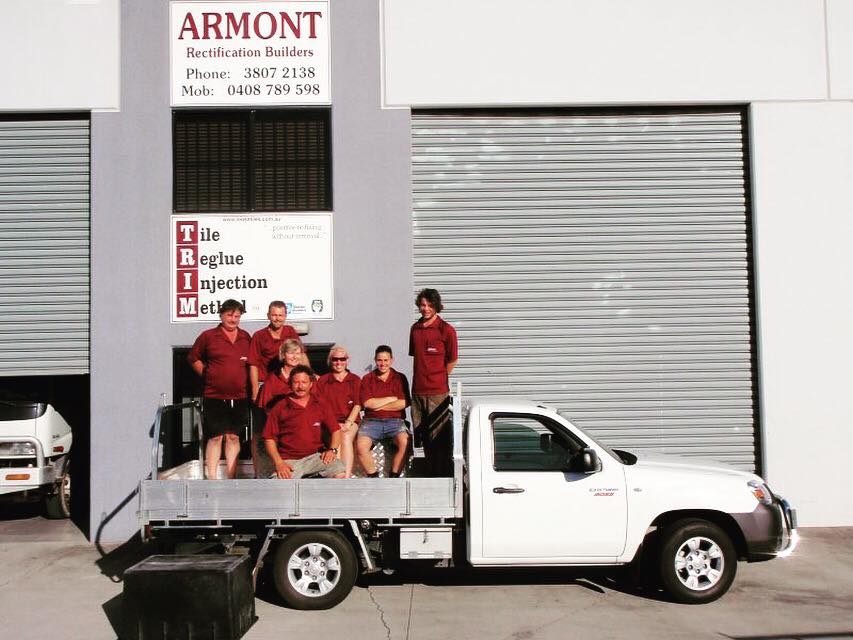 Solution & Service
Loose Floor Tile Repairs
You no longer have to stress about creaky and loose floor tiles because T.R.I.M is here to repair that. Our simple and hassle-free repair method can help your floor tiles be repaired without having the need to remove them. Whether the tiles are outside or inside your home, or on your patio or in your bathroom, our repair solutions will quickly fix them for you.
The Tile Reglue Injection Method can fix your tiles without any messy or expensive replacement, thus minimising any disruptions to your business or home. T.R.I.M is not only quicker, but is definitely cheaper than the other tile replacement companies out there. In no time, your floors will be ready for traffic again.
Repairing your floor tiling doesn't mean that you need to move out because there are no mess or dust, so you don't have to go anywhere.
Loose Wall Tile Repairs
Loose wall tiles can ruin bathroom areas but with TRIM, you don't need to look no further because fixing your bathroom tiles will now be easy. It's permanent, clean, and cheap repair solution will save your tiles in no time.
T.R.I.M uses flexible injectabonds, which function as adhesives to the surface wherein the pressure is injected underneath the loose tiles to help repair them in place. You no longer have to worry about any tile replacement, which can be time-consuming, expensive, and messy because with T.R.I.M, things will be easier.
Having your tiling system fixed will help moisture exposure, thus avoiding replacement tiles which can costly.
Tile Chip Repairs
Chipped tiles can become a blemish on your beautiful wall or floor, and T.R.I.M is here to help your tiles regain its former beauty. You don't have to worry about the cost because T.R.I.M offers a great chip repair services that's quick and cheap.
T.R.I.M's chip repair process is quick and effective wherein it can match the existing chip glazes closely. We can even repair those tile chips in toughest material like limestone, marble, and granite.
Tile chip repairs is available in Tasmania, Townsville, and NSW/Northern Gold Coast.
Peaked and Tented Tiles
If your tiles are tented and peaked, T.R.I.M has the solution for you! Let us help you restore the beauty of your tiles. Our methods are safe wherein we relieve the pressure that had built up and caused the tiles to peaked. We also make sure that the other area is safe to avoid any costly replacement in any way possible.
Any cracked or broken tiles or cement can easily be replaced with patterns or any tiles that you prefer. This will help save the entire floor or wall from any costly replacement.
Contact T.R.I.M Today
You can contact our customer service through our number or email so we can provide you a step by step guide on how the process of fixing your drummy tiles and hallow tiles will happen. We will gladly send you more information about the product and tool that we are going to use to fix your tiles.
You may also subscribe to our newsletter for more information about all the potential cause as to why your tiles are making weird sound. We sometimes send a video on how search for problems around the tile areas; this will help you do some inspections and immediately contact us so we can fix your tile problem before it gets worst.

A fraction of the cost of expensive tile replacement!

Bathrooms are ready for use the very next day. Avoid the long process of tile replacement!

Don't worry about us having to remove fittings – there's no need to cause further damage with TRIM!
Got Tiles that Need Attention? Contact us now!
Don't let those loose, defective, and noisy tiles ruin your day – TRIM is here to help!
Why remove and replace? – Inject and save!